Pry House Farm Shepherd's Hut
Your Hut-in-the-Hills
01748 886845
At a glance »
Tariff: From £65 per night for couples £50 per night for single occupancy (2 night minimum stay)
Sleeps 2
Unlimited use of the Shepherd's Hut during your stay
A place to park your car
Bed linen but please bring your own towels
Electric kettle and fire
Crockery, cutlery & glassware
Breakfast basket as described
Outdoor facilities a few metres from the Shepherds Hut with toilet, hand basin, hot & cold water
Small fridge for the milk & yoghurt and to keep a bottle or two cool!
Sorry but we are unable to accommodate pets.
A stay in the Shepherd's Hut makes an ideal gift. Vouchers available.
Dark sky friendly - see more...»
Small but perfectly formed...
Would you like to wake up to the call of the Lapwing and the Curlew?
Would you like to have breakfast in a traditional Yorkshire Dales hay meadow?
Would you like to gaze at the stars in an inky black sky?
Then Pry House Farm Shepherd's Hut is the place for you.


Small but perfectly formed, idyllic for solo travellers or couples alike your hut-in-the-hills sits on Pry House Farm home field which has some of the finest views in Upper Swaledale. Miles and miles of open space with panoramic views in all directions; what our shepherd's hut lacks in size is more than matched by its stunning location. Pry House Shepherd's Hut is truly a get-away-from-it-all experience with acres of space and Mother Nature your neighbour. In April and May the field is full of ewes and lambs, in June and July the grass is left to grow for hay. Home Field is a traditional hay meadow and is rich in wild flower, herbs and grasses.

What is it like to stay in our Shepherd's Hut?
• The day bed makes into a 5ft double bed
• Duvet & pillows are from the Woolroom and filled with 100% British wool
• The hut has mains electricity
• 1950s style dresser unit with glasses, crockery, cutlery etc.
• Fold away table and folding director chair
• Books, playing cards, radio, torch
• Outdoor seating and outside facilities
• Jaw dropping scenery and massive skies perfect for cloud or stargazing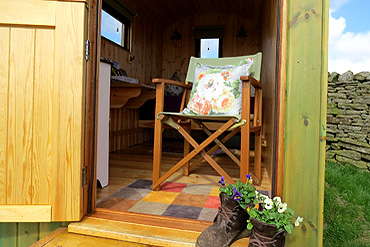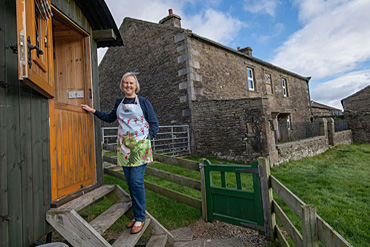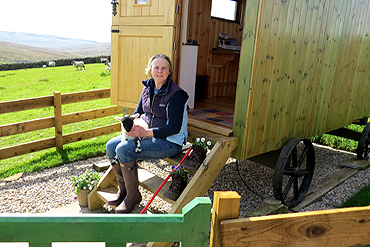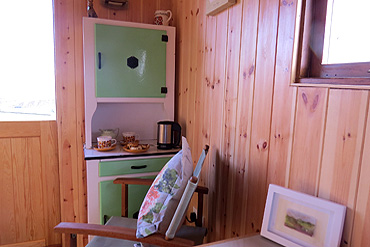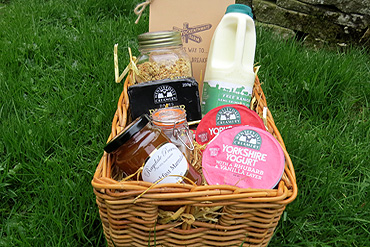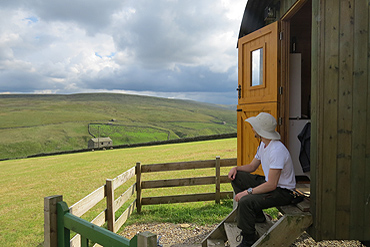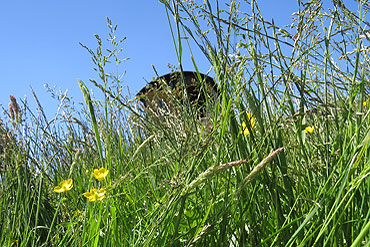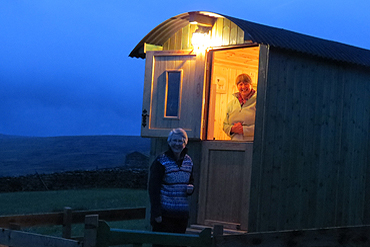 ---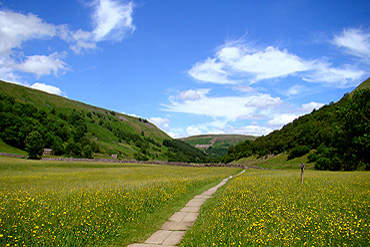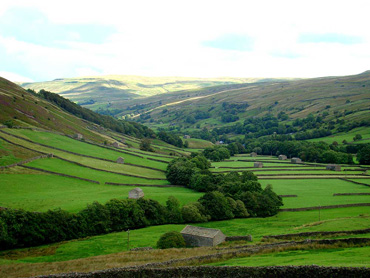 Walking & Cycling at Pry House Farm & Shepherd's Hut

Situated in the Pennine hills Pry House Farm is close to the Pennine Way, the Coast to Coast, the Herriot Way and the Swale Way. Hundreds of walkers, every year, pass through as part of their long distance walking challenge. Others come to discover the dozens of public footpaths and bridleways to be found in Upper Swaledale. Pry House Farm B&B is perfectly situated to explore sections of the Pennine Way taking in Ravenseat and Tan Hill , to find the source of the Swale or conquer lesser known fells such as Rogan's Seat (2,205 ft) and Wild Boar (2323 ft).
There are footpaths here for all abilities; tackle the summit of Great Shunner Fell (2349 ft) or have a go at the Swale Trail (family mountain bike path) or the gentle, low level Every Barn Tells A Story walks - there's something for everybody in Swaledale.
Have a look at the YDNPA website for details of the Swale Trail and the EBTAS project. Kisdon Hill dominates between Keld and Muker but again there are several options depending on fitness or favour: over the top via the Corpse Way or follow the river Swale as it sometimes rushes, sometimes meanders along the valley bottom. At Pry House Farm B&B we have maps and books and trail guides galore including three children's guides for local walks that the whole family can do together.
Let us help you plan your day. We are always happy to help, share our local knowledge and point you in the right direction – just ask. And at the end of your day, having worked up an appetite, there are several good eating and drinking places within easy reach. Try Keld Lodge or The Farmers Arms in Muker.


---
What some of our visitors have said...
"Your Shepherds Hut is lovely and so cosy. We've had everything we needed and it has been fab to leave behind all the things that we don't. We've had a brilliant time exploring the beautiful countryside all around and some awesome night times as well. We don't really want to go home"
"Quite simply one of the most beautiful places I've stayed. its been exactly what I'd hoped for, peaceful, real quiet, nature and fantastic walks.
The sky at night has been mind blowing, so many stars. The dark skies and the complete stillness is something I will really miss. I want to stay!"
"The scenery is unbelievable. The hills change with the weather so that everytime you look there's a new view! Thank you so much Glenda for your warm welcome and for thinking of every last detail to make the hut experience truly special. We have never stayed anywhere more magical than this."

---
"Of all the great dales, Swaledale seems to come nearest to one's idea of a pure, unsullied dale..."
Included in your stay is a guaranteed 100% Yorkshire Dales breakfast basket with Yockenthwaite Farm granola or muesli, milk from Wensleydale, butter and yoghurt from the Wensleydale Creamery (famous for its cheese and well worth a visit!), bread from Hawes, preserves from Raydale and naturally Yorkshire Tea.

During your stay we would like to guarantee 100% peace and quiet which comes by the bucketful at Pry House at no extra charge! We are however a working farm where sheep bleat, dogs woof and tractors brum! Our farming and our livestock come first and we make no excuse for that. At different time of year there are different levels of activity; lambing, hay time, shearing for example which makes staying on a farm all the more appealing.